No other high Arctic locations in the world have as many visitors as Svalbard does. This is mainly due to good air links and easy sea access for much of the year. A special feature of the islands is the absence of a road network. There are simply no roads except for short stretches in and near the settlements. All travel outside settlements must be offroad, by sea, or by air. Since the terrain in Svalbard is so vulnerable, organising travel to avoid damaging the environment is a real challenge.
Snowmobiles and boats primary means of transport
Off-road travel in Svalbard is connected mainly with tourism, recreation, research, and administration. Snowmobiles and boats are the key means of transport. Large and small cruise ships ply the coast during the summer season, mainly between Longyearbyen and northward along the west coast of Spitsbergen. Snow mobiling occurs mostly between February and May and focuses on the settlements and certain popular destinations on Nordenskiöld Land. Helicopters, aircraft and launches are also used for government and commercial purposes.
The impact of travel
Motorised traffic in Svalbard can have direct negative impacts as a result of noise and other disturbances to animal life. It also causes damage to vegetation, tundra, and cultural remains. It is relatively uncertain just how serious this impact is.
The most common impacts of traffic on Arctic tundra are changes in species composition and the distribution of vegetation, compaction of the soil, changes in pathways for water and nutrients, changes in mechanical structure, and changes in temperature and thus the ice/water threshold. The damage may vary from shallow tracks to deep gullies with accelerating erosion. In the central parts of Nordenskiöld Land we find several examples which were mainly caused by the use of heavy vehicles for coal mining before 1990.
Snowmobiling damages the terrain
Studies in the USA and northern Sweden have shown that snowmobiles driven on snow-covered ground have no detectable effect on ground vegetation. However, during a thaw significant damage can arise from snowmobiles churning up the vegetation, potentially damaging early spring plants. Snowmobile tracks are not considered a major problem as yet, but we must keep a watchful eye on developments in the central areas where traffic is heaviest.
Wildlife may suffer
Some animals are disturbed by motorised traffic, and - as a result of direct disturbance, stress, or hunting - the animals' condition may deteriorate, or they may choose to avoid otherwise attractive habitats. Again, this has not been identified as a major problem in Svalbard.
Noise detracts from the wilderness
Many people find that noise and vehicle tracks spoil their enjoyment of the pristine environment they came to see. On the other hand, snowmobiles have a long history in Svalbard in connection with recreation activities. It is now difficult to enjoy traditional outdoor recreational activities around the settlements without disturbance, for much of the year. Cruise ships and aircraft can also disturb the peace and quiet for adventurers wishing to explore the wilderness of Svalbard. Wilderness and quiet are key factors for marketing Svalbard as a travel destination, and the lack of areas that are closed to motor vehicles may reduce the islands' appeal.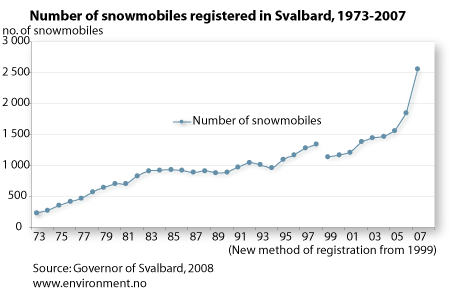 Growing interest in Svalbard
Recent years have seen a growing interest in Svalbard as a tourist destination. One reason is the Norwegian government's decision to develop tourism in response to the decline in coal mining. There is also a general worldwide interest in "extreme tourism" where Svalbard has much to offer. Scientific research is another key reason to visit the islands, so the authorities provide special facilities to accomodate these activities.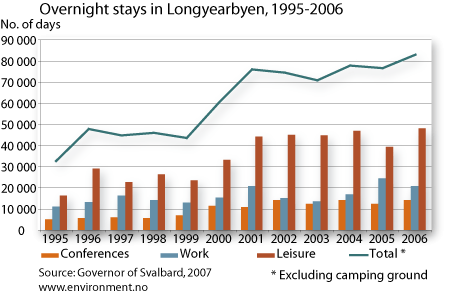 Tourists and ships pose the greatest threats
Limited environmental impact has been recorded as a result of cruise traffic around Svalbard. There has been some damage to vegetation and to cultural remains in the most frequently visited areas of Northwest Spitsbergen. Cultural remains are non-renewable resources and can be partly or completely destroyed by visitors.
The potential danger of shipwreck and oil pollution from boat traffic is another important threat to the environment. Drift ice and unreliable navigation charts contribute to increasing the risk of accidents, which is considerably higher here than compared to the Norwegian mainland coast.
Tourism is regulated
In order to safeguard the environment and cultural heritage tourism and other travel activities are regulated by law.This has also been done for safety reasons. The regulations require non-residents to register with the Governor of Svalbard before they leave the local area around Longyearbyen, Administrative Region 10. The Governor may demand amendments to tour plans in the national parks and nature reserves if there is risk of damage to the natural environment or cultural heritage.
Monitoring and research
The physical environment in Svalbard is constantly monitored. The environmental monitoring programme for Svalbard and Jan Mayen (MOSJ) will bring together data from a variety of sources, so that the results can be seen in context and compared. The system is being developed now, and will be a useful tool in the management of Svalbard. It is also hoped that the system will help us to identify areas where future research is required.