The original Scandinavian wolf population died out during the 1960s. The wolves found in Norway and Sweden today are descended from a small number of animals from the Finnish-Russian population that dispersed as far as southern Scandinavia in the 1980s and 1990s. The wolf is red-listed as critically endangered in Norway today.
Growing Scandinavian wolf population
During the 1990s, the Scandinavian wolf population grew strongly, from fewer than ten animals to almost 100 in 1999. Population growth has continued after this.
The Scandinavian population is relatively isolated, so that inbreeding and a lack of genetic diversity may determine whether it is viable in the long term. This is an important issue for the management authorities.
Wolf numbers in Scandinavia, 2016–17
In winter 2016–17, the monitoring programme showed that there were around 430 wolves in Scandinavia. There were 46 packs and 28 scent-marking pairs. 54-56 wolves were classified with territories entirely in Norway, 51-56 with territories straddling the Norwegian-Swedish border. This gives a total of 105-112 observated wolves fultime or partly staying in Norway.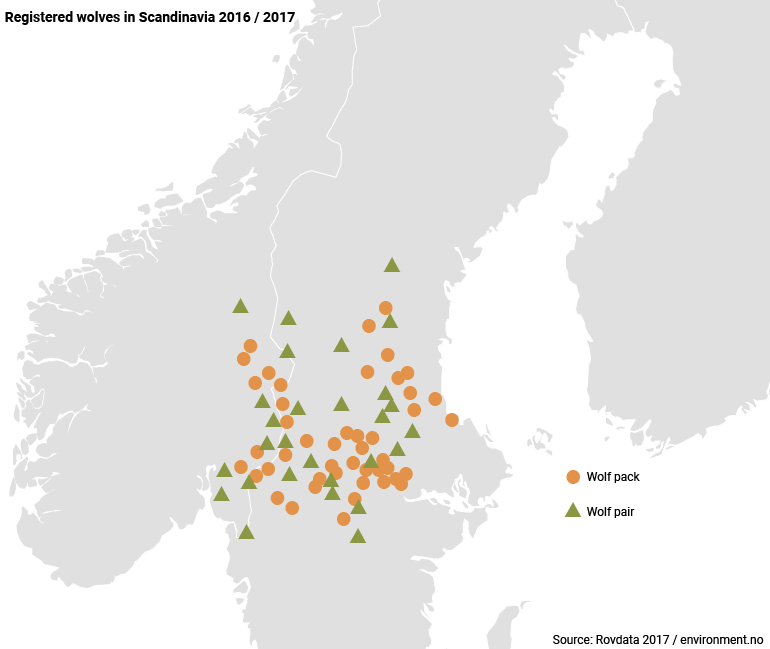 Poaching
Before wolves were given legal protection in 1971, they had already been exterminated in Norway by relentless hunting.
Recent research has shown that there is considerable poaching of wolves, and that this is the most important cause of wolf mortality. Illegal kills also make it much more difficult to ensure sound management of the wolf population.
Close watch on the wolf population
Wolves were given temporary protection in Norway from 1971, and permanent protection from 15 May 1973. The wolf is listed as critically endangered on the Norwegian Red List from 2015.
Population target four to six litters a year in Norway
Norway's national target is four to six wolf litters to be born each year within the designated management area for breeding wolves.
Monitoring the wolf population
Wolf scat and hair samples are collected for DNA analysis to find out how many wolves there are in each territory and the relationships between them. Together with traditional tracking and registration of litters, this makes it possible to monitor the wolf population.
Population regulated by culling
The wolf population is regulated by culling by licensed hunters. When a cull is authorised, the authorities specify the wolf quota and the geographical areas where the cull is to take place. The purpose is to reduce livestock damage.
If an acute situation arises, the authorities may also authorise culling of a specific problem wolf to prevent losses of livestock or domestic reindeer.
International agreements that apply to the wolf
The Bern Convention on the Conservation of European Wildlife and Natural Habitats applies to the wolf. The species is included in Appendix II, which lists strictly protected animal species. It is also included in Appendix II of the Convention on International Trade in Endangered Species of Wild Fauna and Flora (CITES). This Appendix lists species in which trade may be permitted but must be strictly regulated.